Graphite pencils are a popular medium for drawing, sketching, and writing. They are made from a mixture of clay and graphite, a form of carbon, and encased in a wooden casing. Graphite pencils are graded on a scale from 9H to 9B, with 9H being the hardest/ lightest in color, and 9B is the softest/darkest in color. H pencils are good for fine, detailed work, while B pencils are good for softer, broader strokes.
To use a graphite pencil, you can start with a piece of paper by applying pressure to the pencil to deposit the graphite onto the paper. Create lighter or darker lines by applying more or less pressure, or by using a harder or softer pencil. Create a wide range of tones and shades by blending or layering different pencil strokes on top of each other.
Remember when working with graphite pencils, the graphite will smudge easily. To avoid smudging your drawing, hold the pencil differently keep the tip pointed, or use a paper blending tool to blend pencil strokes. You can also invest in a good-quality eraser to remove any unwanted marks or lines. Paper also plays a huge role.
Why Do Pencil sketches?
Drawing with pencils can be a very enjoyable and relaxing activity for many people. Why I enjoy pencil art.
Pencils are easy to use and widely available: Pencils are an accessible medium that can be used by people of all skill levels. They are also widely available and relatively inexpensive. The ability to start drawing with pencils without having to invest much is a huge bonus.
Pencils allow for a wide range of effects: With pencils, you can create a wide range of lines, tones, and textures. You can use different hardness and softness of pencils, blend and layer different strokes, and experiment with different shading techniques to create the effects.
Pencils are versatile: Use pencils on a variety of surfaces, including paper, cardboard, and even some fabrics. This allows you to be creative, and explore different mediums.
Therapeutic: Many people find that drawing is a calming, meditative activity. It allows them to focus on the present moment to forget about their worries.
Pencils can be a fun, rewarding hobby that allows you to express creativity and relax your mind.
What tools do you need?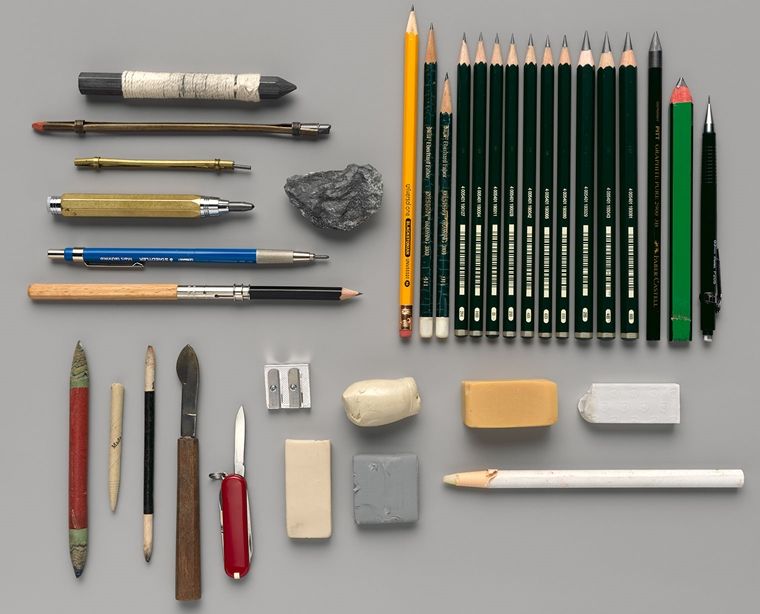 There are varieties of graphite drawing tools used to create different effects s. Some common graphite tools include:
Paper: Different types of paper give different effects and textures. Be sure to pick one for the correct medium and intentions.
Pencil sets: These sets contain a range of pencils in different hardness and softness, allowing for a variety of options when drawing.
Blending tools: These tools, such as blending stumps and tortillons, are used to blend and soften pencil strokes to create smooth, gradated tones.
Erasers: These are used to remove or lighten pencil marks. There are various types of erasers, including kneaded erasers, which can be molded into different shapes to erase specific areas.
Sharpeners/Knives: These are used to keep the tips of your pencils sharp, which is important for creating fine, detailed lines.
Fixatives: These are sprays that can be used to set your pencil drawings to prevent them from smudging or smearing.
Pencil extenders: These are hollow tubes that fit over the end of a pencil and allow you to use the pencil even when it becomes too short to hold comfortably.
Inexpensive tools
Not only are most of the tools inexpensive but you can make some of them. For example, the blending stumps. Make your blending stump for pencils by following these steps:
Gather materials: You will need a piece of fine-grit sandpaper, a small piece of paper or cardboard, and a pencil.
Sand the pencil: Use the sandpaper to sand down the tip of the pencil until it is blunt and rounded. Be sure to sand evenly, and create a smooth, consistent point.
Roll the paper: Take the piece of paper or cardboard and roll it into a tight cone shape, with a pointy end about the same size as the tip of the pencil.
Attach the paper to the pencil: Use a small amount of glue to attach the pointy end of the paper cone to the tip of the pencil. Allow the glue to dry completely.
Trim the paper: Once the glue has dried, use a sharp blade or scissors to trim off any excess paper, creating a smooth, rounded end.
Your homemade blending stump is now ready to use! Use for blending and smoothing out pencil strokes. Create gradated tones and soften hard edges. Clean the blending stump regularly; remove any excess graphite or other debris
How to get started
Quick life sketches, figure drawing, and scribbling shapes and shades with pencils involve capturing the essence of a subject in a limited amount of time, often using just a few strokes.
Quickly capture the essence of a scene or subject in a loose, spontaneous manner. These sketches are often done quickly, to capture the overall impression of the subject rather than the fine details. Quick life sketches are a good way to practice observation and develop drawing skills.
Figure drawing is the art of sketching the human form, and it can be done with a variety of media, including pencils. When creating figures with pencils, start by lightly sketching the basic shapes of the body. The head, torso, limbs, and hands. Gradually build up the details and values. Pay attention to the proportions of the body and the way that light falls on the forms.
Both are challenging, but they are also rewarding and develop skills as an artist. With practice and observation, improve your ability to capture the essence of your subjects in a limited amount of time.
Make a goal
Here is an example of a goal for learning to draw :
"I will practice drawing for at least 30 minutes per week, and I will strive to improve my skills by experimenting with different techniques and materials. I will also try to draw a variety of subjects, including still life, landscapes, and portraits, to challenge myself and expand my abilities. By the end of the month, I will have completed at least three drawings that I am proud of and that demonstrate my progress."
This goal is specific, measurable, achievable, relevant, and time-bound, which are characteristics of a good goal. It also includes a plan for practicing and improving, as well as a deadline for measuring your progress. By setting this goal for yourself, stay motivated and focused on improving your pencil art.
Drawing from nature
Nature is a great way to improve as an artist. Develop your ability to observe and capture the world around you. Some reasons why you might want to draw from nature when sketching include:
Develop your observation skills: When you draw from nature, pay close attention to the subject noting the details and proportions of the forms. This will help you develop your ability to see and understand the world in a more focused and attentive way.
Allows you to practice working from life: Drawing from life, rather than from photographs or other reference materials, can be more challenging, but it is also more rewarding. Capture the unique qualities and characteristics of the subject in front of you.
Relaxing and meditative: Many people find that drawing from nature is a calming and meditative activity that allows them to connect with the world around them. It can be a great way to relax and de-stress.
Inspire creativity: Nature is full of a wide range of subjects, from plants, animals, landscapes, and still life. creating from nature helps create inspiration and ideas for your art.
Drawing from nature can be a valuable and rewarding activity that helps you to connect with the world around you.
Use a Sketchbook
There are several reasons why you might want to have a sketchbook for pencil work:
Portable: A sketchbook is easy to take anywhere, and draw anytime. This can be especially useful to practice drawing on the go or if you want to capture ideas and observations quickly.
Experiment: Sketchbooks are a great place to experiment with different techniques and ideas without the pressure of creating a finished piece. Try out different pencils, shading techniques, compositions, and more without the stress of making mistakes.
Record of your progress: Keeping a sketchbook allows you to track progress over time and see how your skills have improved. It's a great source of motivation and inspiration to look back on old pictures. See how far you've come.
Source of inspiration: A sketchbook is a great place to store ideas, inspiration, and reference materials. Use it as a place to collect images and ideas that you can refer to later when working on more finished pieces.
Sketchbooks are a valuable tool for any artist. They are especially useful for pencil work. It allows you to practice, experiment, record your progress, and it can be a source of inspiration for future work.
Basic Shading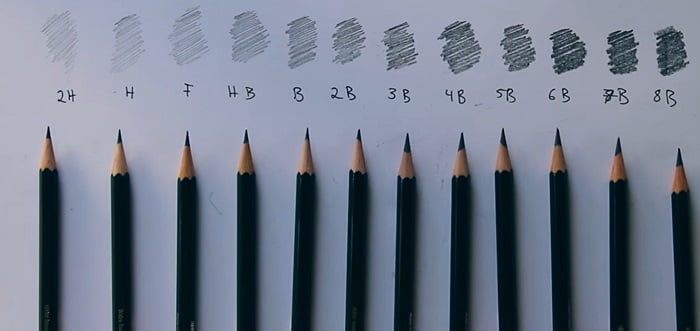 Here are five rules to follow when shading with pencils:
Use a range of values: To create the illusion of three-dimensionality in your drawings, it's important to use a range of values, or shades of lightness and darkness. Achieve this by using different hardness or softness of pencils, layering, and blending different strokes.
Pay attention to the direction of the light source: The direction of the light source will affect the way that light falls on the subject of your drawing. Reflect on this in your shading. Pay attention to the direction of the light and the way it creates highlights and shadows on the subject.
Use hatching and cross-hatching to create value: Hatching is the technique of creating parallel lines close together to create a hatched effect, and cross-hatching is the technique of using intersecting lines to create a cross-hatched effect.
Blend and layer your strokes: Use a blending tool, such as a blending stump or your finger, to smooth out and blend pencil strokes. Used to create gradated tones and soften hard edges. Layer different pencil strokes on top of each other to create deeper, more complex values.
Practice, practice, practice: Shading with pencils is a skill that takes time and practice to develop. Don't get discouraged if your drawings don't look perfect at first – keep practicing! You'll get better over time.
Shading with different strokes
Several pencil strokes are used to shade:
Hatching: Parallel lines close together to create a hatched effect. The closer together the lines are, the darker the area will appear. Use any direction, using different line widths and hardness to create different effects.
Cross-hatching: Intersecting lines create a cross-hatched effect. As with hatching, the closer together the lines are, the darker the area will appear. Cross-hatching can also be done in any direction and with different line widths and hardness
Stippling: Small, repeating dots to create a textured effect. The closer together the dots are, the darker the area will appear. Stippling is time-consuming, but it is used to create a wide range of tones and textures.
Circles: Repeating circles create a textured effect. As with stippling, the closer together the circles are, the darker the area will appear. Circles create a wide range of tones and textures.
Blending: A blending stump or your finger is used to smooth out and blend pencil strokes together. Creating smooth, gradated tones and softening hard edges.
By combining different strokes, you can create a wide range of values and textures.
Soft and heavy pressure for edges
Use hard and soft edges to create a variety of effects.
Hard edges are created when you use a sharp pencil tip or when you apply pressure to create a crisp, defined line. Hard edges are useful for creating precise, detailed lines and for outlining the shapes and forms in your drawings.
Soft edges, are created using a blunt pencil tip or when you apply less pressure to create a softer, less defined line. Used to create a sense of movement, softness, and blending. Create soft edges by blending pencil strokes together with a blending tool or your finger.
By using a combination of hard and soft edges in your art, you can create a sense of depth. Use hard edges to outline the forms in your drawing and soft edges to blend and shade the areas between the forms. Experimenting with different edge qualities creates images that are more realistic.
What should I draw?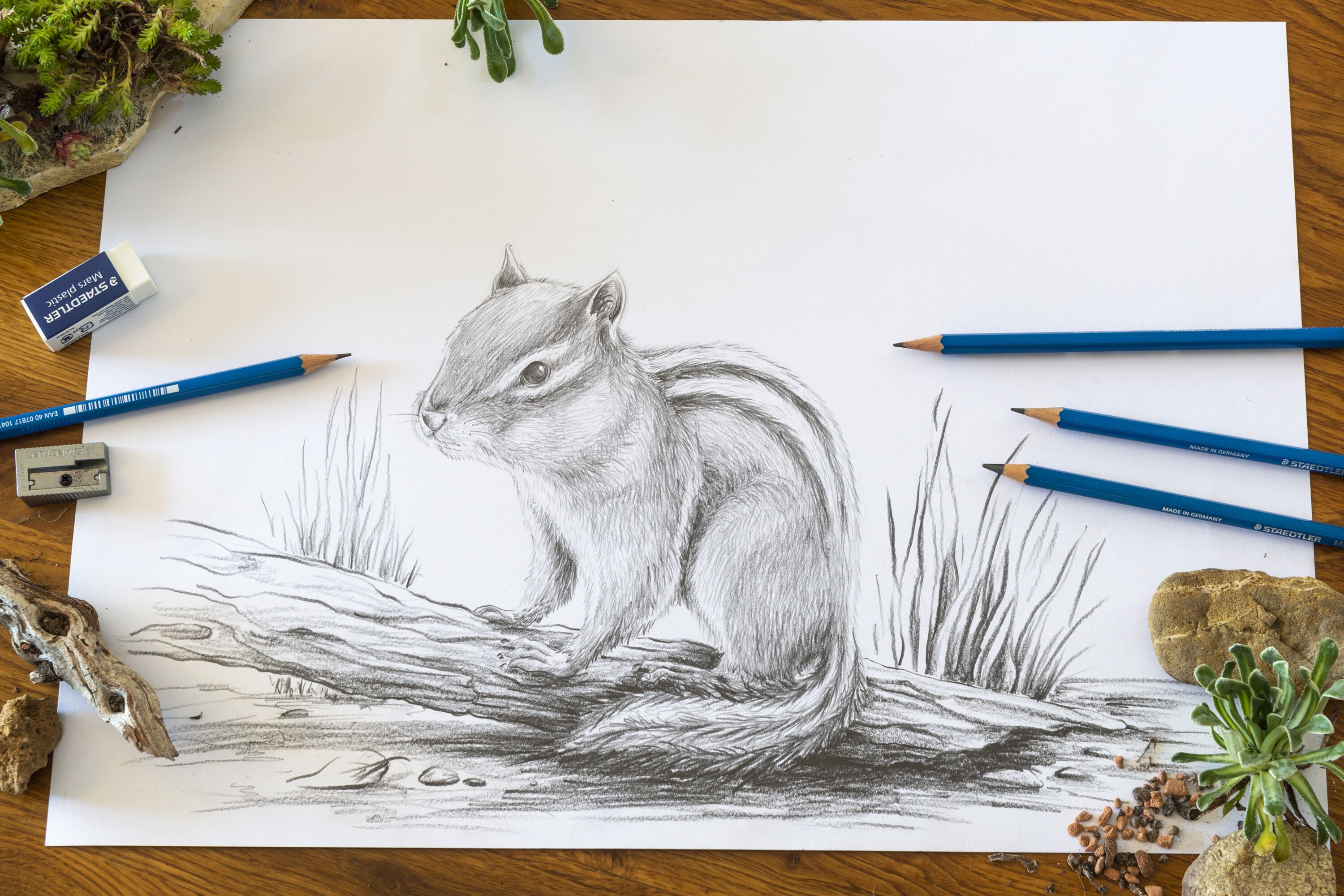 A common occurrence when looking for an idea is not knowing what to draw. We have plenty of things we should focus on for improvement, try one of these.
Observation and perspective: Being able to accurately observe and represent the world around you is key. Perspective is the way that objects appear to get smaller/closer together as they recede into the distance.
Proportions and anatomy: Knowing how to accurately draw the proportions and anatomy of the human figure and other subjects is important for creating realism
Light and shadow: Understanding how light falls on a subject and how to depict it on a flat surface is essential for creating the illusion of depth and form.
Line quality and mark-making: Being able to control or manipulate different types of lines and marks is important for creating a wide range of effects.
Composition: The way that you arrange the elements can have a big impact on their overall effectiveness. Learning how to create a strong composition is important for creating successful artwork.
By focusing on these key areas, you will develop your skills much more quickly
Conclusion
Anyone can start drawing and creating beautiful works of art with pencils. All you need are some good pencils, a few minutes, and paper. These simple tips will help you get started or continue with your pencil journey!
Anything else you want to add? Let me know in the comments